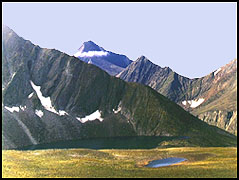 On April 16, 1996, the New York Times reported on a mysterious military base being constructed in Russia:

"In a secret project reminiscent of the chilliest days of the Cold War, Russia is building a mammoth underground military complex in the Ural Mountains", Western officials and Russian witnesses say.
"Hidden inside Yamantau mountain in the Beloretsk area of the southern Urals, the project involved the creation of a huge complex, served by a railroad, a highway, and thousands of workers."
The complex, being built inside Yamantau mountain by tens of thousands of workers, covers an area the size of the Washington area inside the Beltway.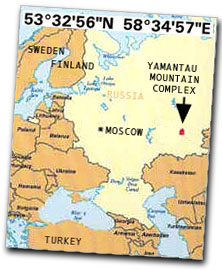 There are reportedly provisions for living inside the man-made caves. There is an underground warehouse for food and clothing, a shelter for the Russian national leadership in case of nulcear war, and rumors that the Yamantau Mountain project was associated with the so-called 'Dead Hand' nuclear retaliatory command and control system for strategic missiles.
Some U.S. analysts believe the secret underground complex beneath Yamantau Mountain betrays a lingering belief among top Russian leaders that they must continue to prepare to fight and win a nuclear war. Russians say they still fear the U.S.
"The highest mountains of the South Urals - Yamantau (1640 m) and Bolshoi Ieremele (1582 m) - are located in the western row of ridges."
---